"If you like it then you should put a ring on it".. Well in this situation we mean a huge rock!!!… Most of us have already envisioned and designed how we want our engagement ring to look whenever we meet our future hubby. These celebrities wedding rings are just stunning and mind blowing like we are seriously gagging over these rings. We may not be able to afford the rings they have but we sure can gag over it!!
Here are 6 expensively stunning Celebrity engagement rings we absolutely adore
Ciara 
Russel Wilson gave Ciara a 16 karat diamond ring which cost about 2 million dollars!!!.
Kim Kardashian
When Kanye West proposed to Kim back in 2013, he designed the 15-carat Lorraine Schwartz ring himself. Worth more than $1.6 million then he gave her another ring which was worth an estimated $4.5 million, however, the ring got stolen when Kim was robbed in Paris.
Beyonce Knowles
Beyonce and Jay-Z have been together since 2008 that is when she first flashed her 18-carat Lorraine Schwartz ring. Valued at more than $5 million, Queen B's engagement ring is a stunning emerald-cut diamond and two delicate bands.
Blake Lively
Not only does this famous $2.5 million engagement ring feature a flawless diamond in a unique pink color, it's also a gorgeous oval cut set on a delicate band covered in tiny diamonds, the Lorraine Schwartz ring was given to blake by her husband, Ryan Reynolds.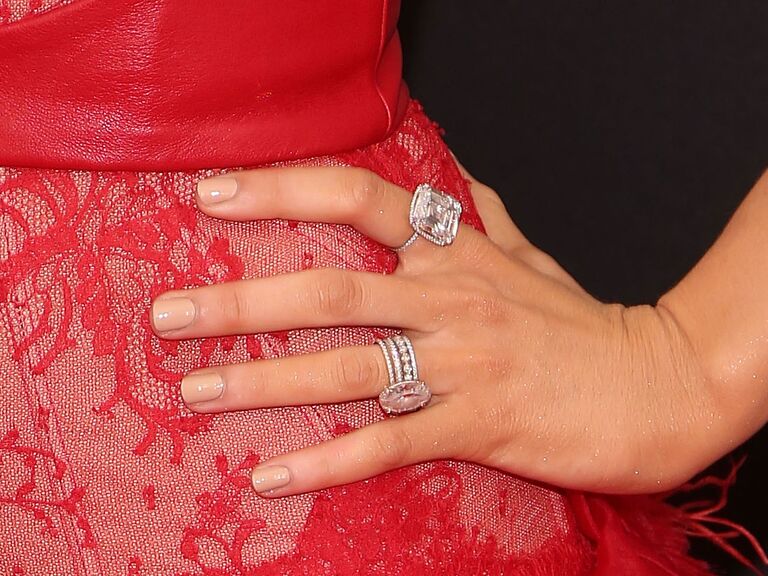 Miley Cyrus
Miley's 3.5 karat Neil Lane diamond and gold band engagement was given to her by her fiance Liam Hemsworth back in 2012.
Mariah Carey
James Packer proposed to Mariah Carey in 2016 with a 36- karat ring, The ring, designed by Wilfredo Rosado (Carey's go-to jeweler and friend), was set in platinum which costs about a cool $10 million. (JESUS IS LORD!!), unfortunately, the couple is no longer together but sis still has the ring…