Even though it's fun being a part of the bride's main squad (I mean, who doesn't like attention), being a bridesmaid is a huge responsibility. Literally, signing up for a part-time job without pay. The bridesmaids are expected to plan and pay for the bridal shower and are expected to have ideas, give feedback, help decorate, chip in cash, and assist with the hostess duties. From the self-appointed wedding planner to the lady who is almost always late, here are the types of bridesmaids you'll find at every wedding.
Self-appointed wedding planner
This particular lady is everywhere and in everything, except her actual bridesmaid duties that is. She has an opinion about every decision being taken and is on top of the wedding details and actually starts to order the wedding planner around. Such ladies should be kept busy doing particular tasks to prevent them from getting in your way.
2. The Veteran
This lady has been in the bridesmaid game since God-knows-when and is still going strong.  While others are obsessing about clothes, the bride and the event as a whole, she just sits back and observes because of course, she's been there.
3. The Over-emotional one
From the moment she's told that her friend is getting married to the moment the last music plays, this lady assures you of tears. Lots and lots of it. You can find her alone in one corner jabbering on and on about how beautiful you look.
4. The Party Animal

This lady is just not interested in any duties given to her. She just wants to know where the bachelorette party is happening. Hell! She's the one who will plan it and best believe, she's not going to give you a serene type of celebration. You're definitely going to your local equivalent of Vegas!
5. Personal Wedding Paparazzi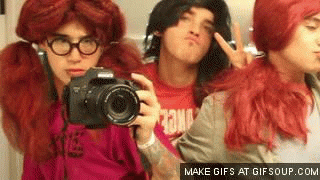 She's ever ready with her camera to take pictures of everything going on. The bride could literally be in the middle of wearing a gown and she will be taking pictures with everyone appearing in the background. It might be annoying but in the long run, her pictures provide you with the much-needed memories.
6. The Late One
She's the last person on this list because of course, she's always late! The time you give such a person should be 2 hours ahead of everyone so she can make it for everything (If she gets to know your trick, I'm sorry. This hack isn't working anymore).
Which of these bridesmaids are you?
If you have a story you want to share with Kuulpeeps and the world, please do hit us up on Facebook, Twitter, Instagram