It seems like bad news has found a permanent home in legon this week. Just yesterday we lost a Business Administration student who was in Cape Coast for a pageant.
See Also: Contestant Of The Face of USAG, Lily Ampofowaa Asiedu Pronounced Dead.
Today, another bad news! We have lost our former chancellor, Kofi Annan. Some of us had hopes of bagging the first class and shaking his hand at graduation, but it looks like death had other plans.
Well!! Fun fact, his life is not an open book as you think. Here are 10 things you MOST DEF didn't know about Kofi Annan.
He is half Ashanti and half Fante.
Annan's first marriage was to Nigerian Titi Alakija in 1965, with whom he had two children, — Ama and Kojo. The couple separated in the late 1970s, and he remarried Swedish lawyer, Nane Lagergren in 1984.
He had a twin sister who died in 1991
Before going to work at the UN, he studied in four universities
Annan completed his undergraduate work first at the University of Science and Technology in Kumasi. He finished up at Macalester College in the U.S., earning a bachelor's degree in economics in 1961. After that, he continued his graduate studies in economics at the Institut Universitaire des Hautes études Internationales in Geneva. He also finished by earning a master of science degree in management from the Massachusetts Institute of Technology in 1972.
He originally intended to work as a civil servant in Ghana
In November 1974, after his studies, Kofi returned to Ghana to try to serve his country. He decided to leave less than two years later, due to "a debilitating combination of stultifying corruption and bureaucratic inefficiency."( His own words)He moved to the UN, where he served for the bulk of his career.
He was the Chancellor of the University of Ghana.
Kofi Annan attended Mfanstipim Boys' Senior High School popularly known as 'Botwe' from 1954 to 1957.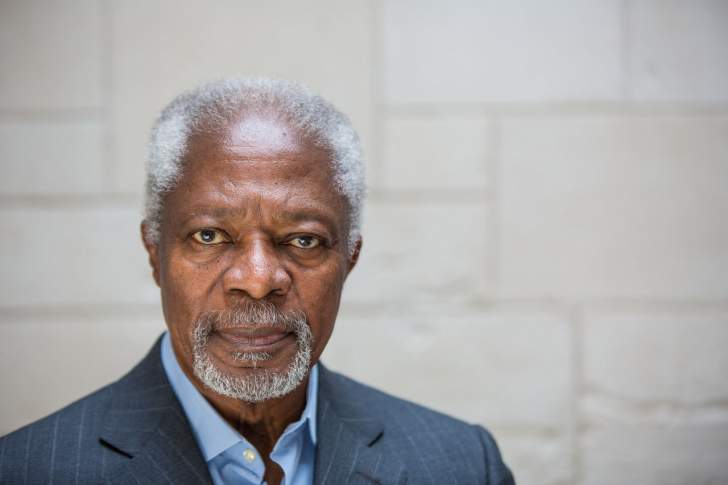 He received a Nobel Prize and many other honorary awards
In 2001, Kofi Annan was awarded the Peace Prize for having revitalized the UN.
He is ranked 4th in the list of the most influential Ghanaians
He spoke English, French, Asante Twi, Fante and many other African languages.