The young boy, whose dream of becoming like the Italian sculptor, painter, architect and poet Caprese Michelangelo of the High Renaissance, who lived from March 1475 to February 1564,  meets the French President who was impressed with his art.
Emmanuel Macron, President of France, on Tuesday night at the Afrika Shrine in Nigeria met Kareem Olamilekan, an 11-year-old boy who made a drawing of him under two hours. Impressive right!!!!
The boy impressed the French President with his art.
See Also: Lydia Forson Calls Out French President Emmanuel Macron For Exposing His Ignorance About Colonialism
Macron is currently on a visit to Africa. On Tuesday, he was hosted by the Lagos State Government at the Afrika Shrine a treat he so enjoyed that he took to his official Instagram handle to express his delight.
Apparently, he liked Olamilekan's drawing, as he posted a video of him receiving the portrait with the caption: "Very touched. Congratulations to this young boy!"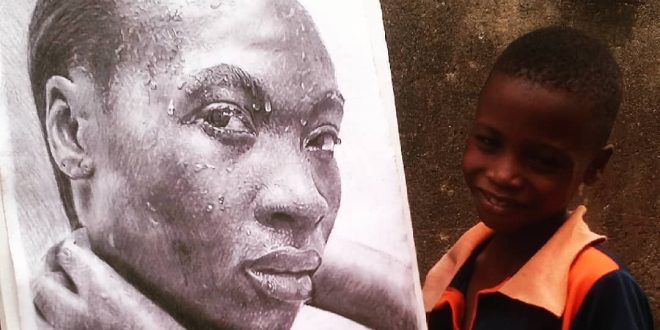 Olamilekan is one of the youngest members of a growing community of artists in Lagos creating hyper-realistic charcoal and pencil paintings.
Good job to this Kuulpeep.
If you have a story you want to share with Kuulpeeps and the world, please do hit us up on Facebook, Twitter, Instagram or on WhatsApp (0500-002686).