If you missed the first edition of the Social Media Week (SMWiAccra) which was held at the Accra Mall, then boy!!! you missed out on all the fun and impressive insights into social media!!!!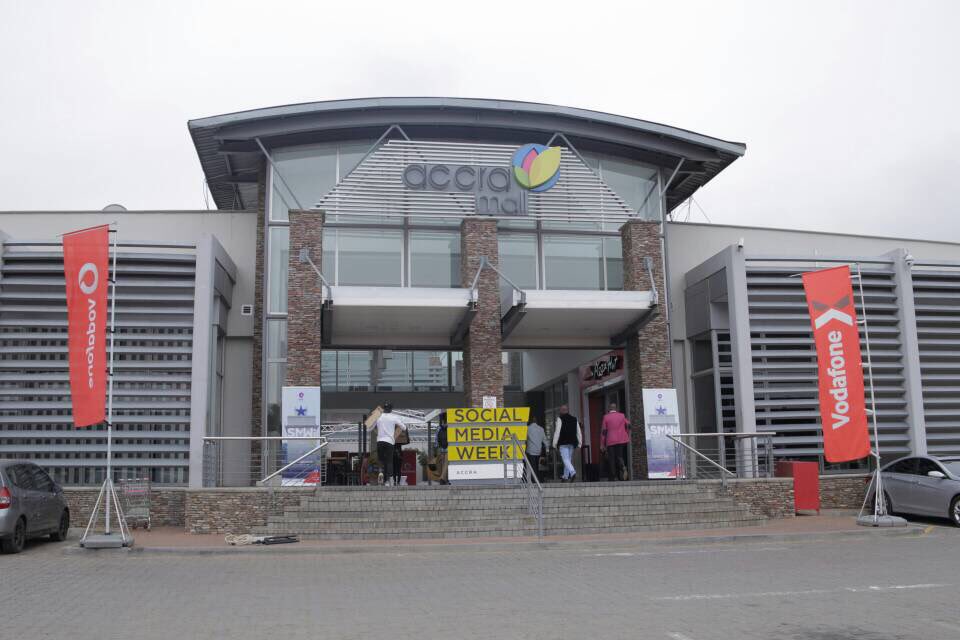 We're sure you've seen the WE DEY ACCRA painting on the walls of the street, yeah yeah!!. It was one of the initiatives during the Social Media Week to help rid the city's walls off all the posters and banners that deface it.
https://twitter.com/SMWiAccra/status/908621795099648000
The first edition of Social Media Week, brought together stakeholders to brainstorm on how to use social media as a tool to promote and develop businesses and the nation as a whole. It was launched at the Accra Mall on Monday, 11th September 2017.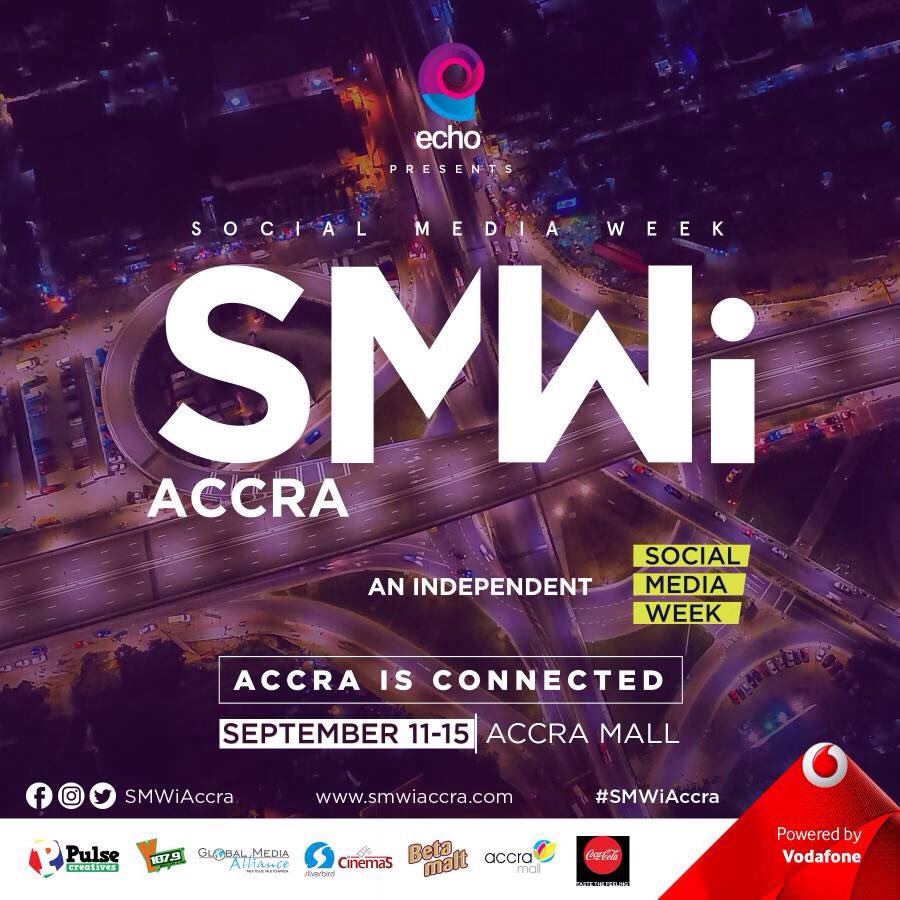 The event organized by Echo House Ghana, a youth marketing agency, saw 30 speakers from all over the world educate participants on various social media related issues such as content creation, media in technology, social media for business as well as art and entertainment.
See Also: Everything You Missed At The 140 Character Session
Chief Executive Officer of Echo House Ghana, Beryl Agyekum Ayaaba in her address said, "there are 5,240,000 social media users in Ghana. It is about time we stop being confused by it and embrace it and use it to grow our businesses and our personal brand".
She said social media has expanded the audience of business information and it was time to learn to properly manage it before it goes out of hand.
https://twitter.com/SMWiAccra/status/1011302426308153346
His Excellency, Nana Akufo Addo also agreed to the importance of social media via his twitter.  He also endorsed the event. Whooosh!! Like that's how infectious the event was!!
Social media is obviously an integral part of our lives and we, in government, must use it to bring development to our people. #SMWiAccra

— Nana Akufo-Addo (@NAkufoAddo) September 14, 2017
I commend the organisers of #SMWiAccra for hosting such a successful international event in Accra and boosting the City's tourism.

— Nana Akufo-Addo (@NAkufoAddo) September 14, 2017
Last year's theme was "Accra Is Connected" and Accra was truly connected. The program outline had exciting programs for each day.  1000 businesses online kickstarted the program after the launch.
The concept was to get businesses that had no social media presence running. Then, back to back, others followed throughout the week. Mherrn!!! EchoHouse deserves some accolades!
See Also: SMWIAccra's Operation 1000 Businesses Online And All You Need To Know
The last day of the event recorded a thrilling Accra is Connected Concert at the forecourt of the Accra Mall which had the likes of Kwesi Arthur, EL, Pappy Kojo, B4bonah, Cina Soul just to mention a few, who shook the crowd with amazing performances.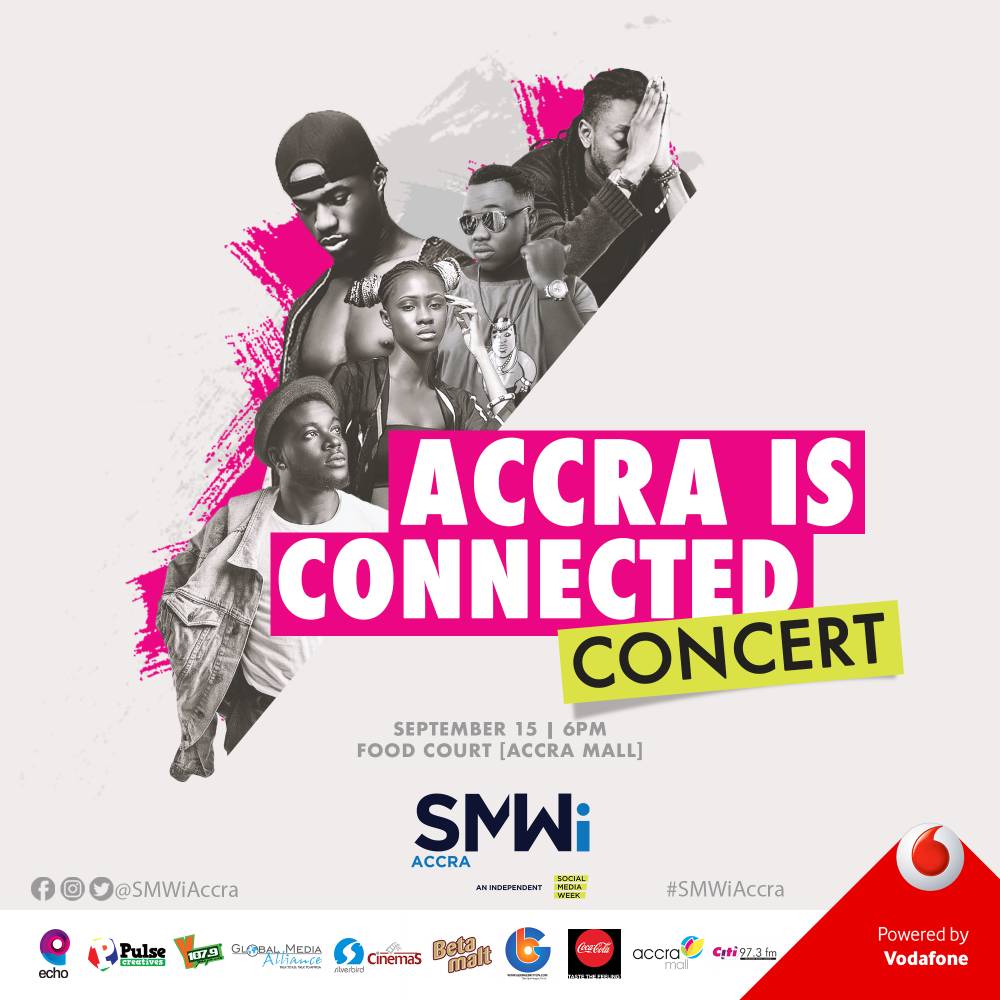 Y'all know EchoHouse Ghana don't slack and this year is going to be better!!! A new theme has been set for the SMWAccra which is "Closer".
After Accra was connected, it's time to ensure that it's closer than ever, kuulpeeps!!!
You don't want to miss this for anything in your lifetime.
Do well to represent. We dey Accra Charle!!!! Issa whole new vibe!!!
If you have a story you want to share with Kuulpeeps and the world, please do hit us up on Facebook, Twitter, Instagram or on WhatsApp (0500-002686)