Derick Omari's mother is a hawker, but that didn't stop him from gaining admission into Ashesi Univerity which then led to him winning the 2018 Ashesi President's award – the highest honour an Ashesi student can receive.
That honour came with a beautiful citation from the Ashesi University.  The whole inspiring and intriguing journey can be read here.
See Also: Here Is A Citation From Ashesi To Derick Omari For Winning The 2018 President's Award
When Derick was being awarded in Ghana at the 2018 Ashesi Graduation, his hawker mother was the one who went on the stage to receive the awarded on his behalf from Patrick Awuah and H.E Nana Akufo-Addo.
That's because Derick is in the United Kingdom preparing to meet Queen Elizabeth II.
Derick Omari finally met Queen Elizabeth II yesterday to be honoured as part of the 2018 Queens Young Leadership Awards.
See Also: Shadrack, Derick and Alimatu Have Been Selected For The 2018 Queens Young Leaders Award
Derick Omari tweeted a photo of him and Queen Elizabeth II with the caption "this is what God can do" and we totally agree!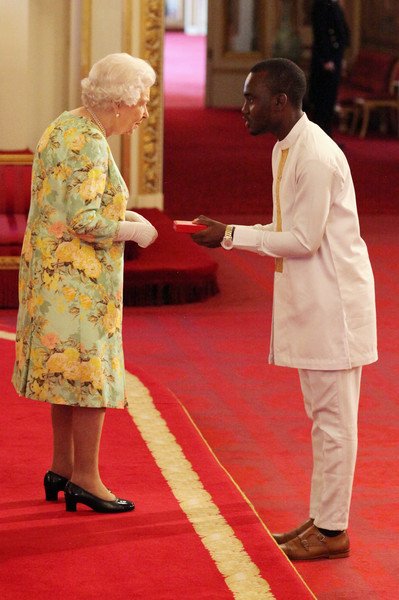 With his mother in another grid in the photo, he described his mother as an "inspiring illiterate" who has "her store packed on her head".
This is me | This is my Sweet Mom

This is what God can do#TrustHim #BeDilligent pic.twitter.com/JOQq5NqZ3O

— Derick Omari (@DerickOmari) June 27, 2018
He also advised in the caption by  telling people to " be diligent" and "trust in Him"
Watch the moment Derick met the Queen for his award. They even had a little chat.
See a man diligent in his business? He shall stand before kings… Proverbs 22:9

The word of God is so true. Meeting Her Majesty the Queen is definitely the best experience I have had so far in my life.

So grateful to everyone and to the team at @TechEra_Gh pic.twitter.com/8cfXBI6ZbV

— Derick Omari (@DerickOmari) June 26, 2018
We're super proud of him as he is putting the country and Ashesi on the map.
We want to say congratulations and go higher bro! We're inspired by your success story.
If you have a story you want to share with Kuulpeeps and the world, please do hit us up on Facebook, Twitter, Instagram or on WhatsApp (0500-002686)