Hi Kuulpeeps. Another half of a long year has gone by and finally, summer is here. YAAAYYYY!!!
We all know what that means right? More parties, more beach events, and let's not forget the all too litty TIDAL RAVE!!
It may be raining but "does we care?" We got our swimsuits, hot pants, shorts, tank tops, shades and those easy to wear shoes and Nike/Adidas slides, but wait! Wey body you dey take come wear those shadas nu? No Yawa.
Kuulpeeps decided to look at a few summer body goals this year.
Our Instagram fames are already rocking it, why can't you?
For the guys, topless gangs seem to be the new trend this year as opposed to last year's beard gangs. Pretty sure you are aware of the major influence of this trend right?
But Chaley, that doesn't mean you should go to the club without shirt oo. You are not Kwesi Arthur. LMAO, them go bounce you basaaa. Just grab you a cool shirt, simple jean trousers with some Stan Smith's or Air Force and you good to go.
Oh and to the 6 packs niggas, as you are gyming the body, you must gym that pocket too bruh. Just imagine the water descending and ascending on extra abs and packs at Tidal Rave. What a sight!! You are definitely not going home single bruh.
Dear ladies, thick is the body trend this summer. Flaunt those curves as the guys are flaunting that cash. These girls have been all over our TLs all year, making the slim girls feel some styles bi.
So if you are still struggling with achieving that thick physique as at now, you better double up on the squats and mountain climbers.
What about the big belly? Well, this year it seems to be an optional feature. If you have a flat belly, that bikini is the way forward. If there's that little bulge, grab a swimsuit or some high waist beachwear to cover it and you're good to go.
Better still, you have small time, grab some green tea or mix some apple cider vinegar with water and move along.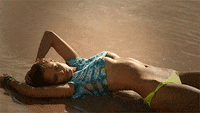 So Topless for the guys, Thick for the babes.
That's our take on this year's summer goals, we would like to hear what your summer body goals are.
Leave your views in the comments below. We out!
If you have a story you want to share with Kuulpeeps and the world, please do hit us up on Facebook, Twitter, Instagram or on WhatsApp (0500-002686)