Ghanaian art is receiving much love from the rest of the world and we've got some artists who are making it big time. They love what they do and art is real life to them.
Meet IBRAHIM MAHAMA
Not the one we all know (businessman and brother of former President John Mahama) no, this guy is a creative person.
BIO
Ibrahim Mahama was born in Tamale, Ghana in 1987 where he currently lives and works.
Mahama obtained a Masters in Fine Art in Painting and Sculpture in 2013 and a Bachelors in Fine Art in Painting in 2010 at Kwame Nkrumah University of Science and Technology, Kumasi, Ghana.
His work was shown during the 56th International Art Exhibition of the Venice Biennale in Italy themed 'All The World's' Futures curated by Okwui Enwezor in 2015.
His solo shows includes: Material Effects, Eli and Edythe Broad Art Museum, Michigan State University, Michigan, USA (2015) and Civil Occupation, Ellis King, Dublin (2014); Factory machines and trucks, Kumasi, Ghana (2013) and Cannon Wax, Jamestown, Accra, Ghana (2013).
An installation on the National Theater
Mahama has exhibited in various locations in and around Kumasi and Accra as well as at the KNUST Museum in Kumasi. Other recent shows include: Edson Chagas / Ibrahim Mahama, Apalazzo Gallery, Brescia, Italy (2015); Broken English, Tyburn Gallery, London, UK (2015); Pangaea II New Art from Africa and Latin America, Saatchi Gallery, London, UK (2015); Material Effects, Eli and Edythe Broad Art Museum Michigan State University, Michigan, USA (2015) and Silence between the Lines: Anagrams of emancipated Futures, K.N.U.S.T, Jackson, Contemporary Art Centre, Ghana (2015).
Now, meet the Satirical artist Bright Teeth Ackwerh
Bright Tetteh Ackwerh is a Ghanaian satirical artist who employs the domains of popular art, street art, painting, and illustration to voice and documents his persuasions. He has exhibited widely in Ghana and West Africa, building a niche as an emerging contemporary Ghanaian artist on the West African art scene. In 2016, he won the Kuenyehia Prize for Contemporary Ghanaian Art (the 'Prize') at the colourful event held at the ringway estates in Accra.
Bright has through the years used social media in sharing his works and provoking powerful sentiments around the themes he explores in his illustrations and paintings.
He got more media attention when his controversial art of the Chinese and Ghanaian governments meeting went out like wildfire.
His style is a satirical re-presentation of Ghanaian sociopolitical and religious issues in an incisive manner that provokes conversations, sparks debate and elicits a response.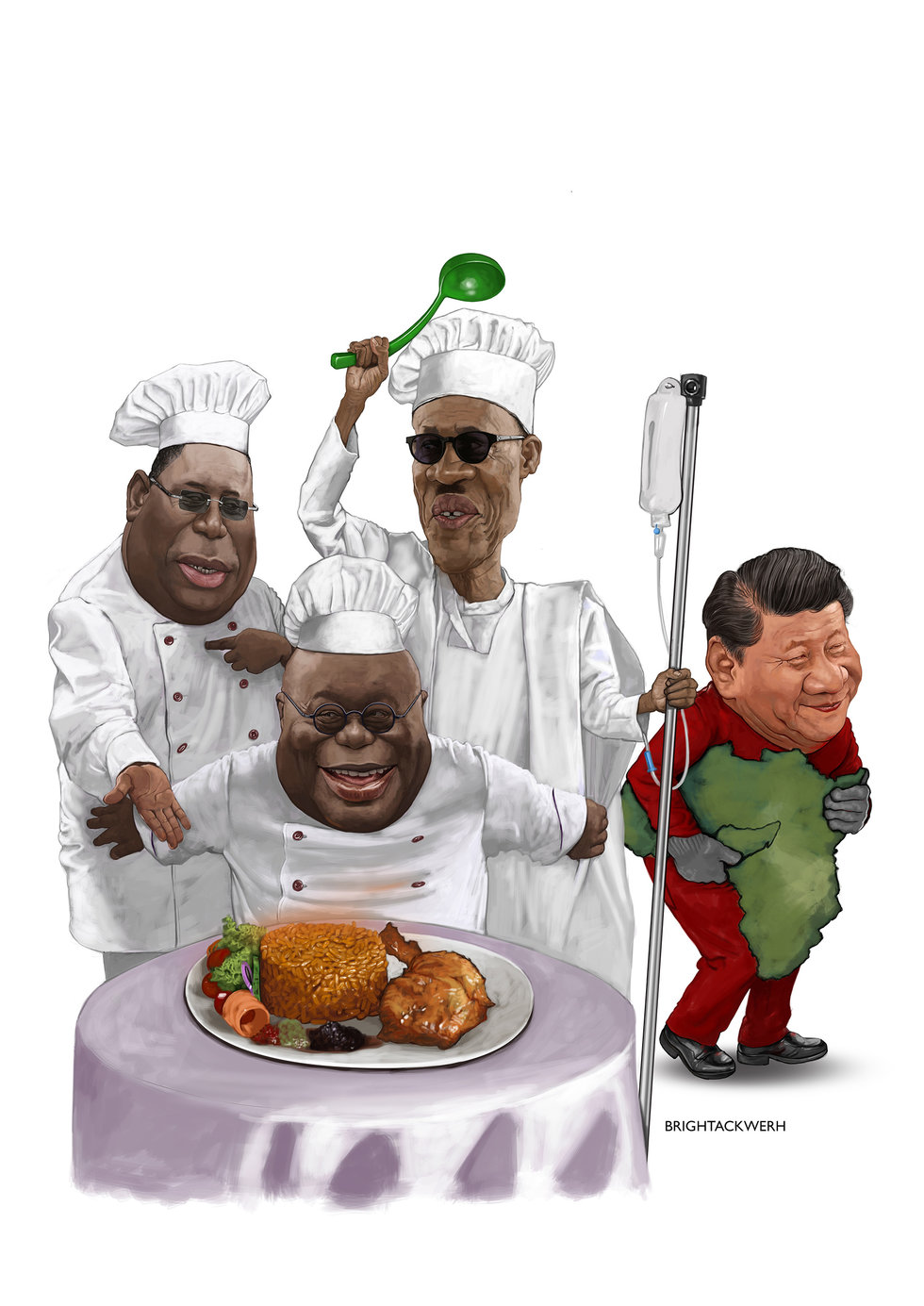 He draws huge inspiration from Fela Kuti and other great African heroes as the subject of his works depict the unapologetic manner in relaying his messages. Bright has a very distinct creative process.
He looks for ways to exaggerate the ideas he has and makes sure he doesn't deviate from the basic truth.
In addition, Comfort Arthur is making art a full-time job.
Comfort Arthur has a Bachelor's Degree in Graphic Design from Central St Martins and a Master's Degree in Animation from the Royal College of Arts. She has worked on several award-winning Ghanaian films whilst also editing top TV series.
In 2015 her short animated film "The Peculiar Life of a Spider" was nominated in the animation category at the Ghana Movie Awards and The Africa Movie Academy Awards. In addition, her short animation film "Imagine" won best Animation 2016 at the Golden Movie Awards. Her latest film "Black Barbie" a poetry animation was screened at over 22 international film festivals, won best-spoken piece film at the Real Times Film Festival 2016 and Best Animation at the Ghana Movie Awards 2016. Comfort Arthur has recently won Best Female director at the BlackStar International Film Festival for her film, Black Barbie.
She also won an award for her animation, Naughty Nii – the Kuenyehia Prize.
She also got media attention for her series Social Media Zombie.
Let's introduce you to the environmentally friendly and comtemporary  artist Serge Attukwei Clottey
He's the creator for Afrogallonism.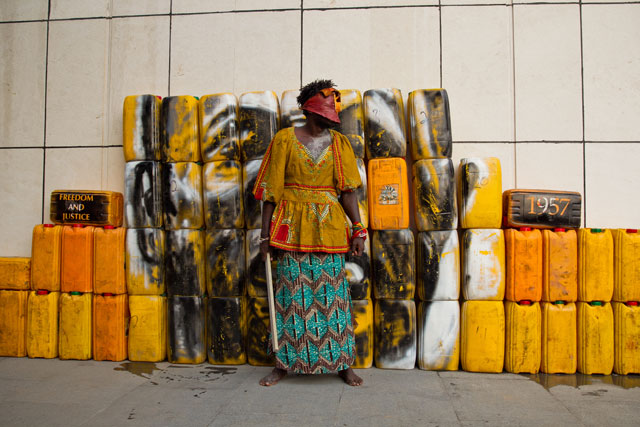 An artistic concept that explores the relationship between the prevalence of the yellow oil gallons in regards to consumption and necessity in the life of the modern African.
Serge Attukwei Clottey (b. 1985) is known for work that examines the powerful agency of everyday objects. Working across installation, performance, photography and sculpture, Clottey explores personal and political narratives rooted in histories of trade and migration. Based in Accra and working internationally, Clottey refers to his work as "Afrogallonism", a concept that confronts the question of material culture through the utilisation of yellow gallon containers. Cutting, drilling, stitching and melting found materials, Clottey's sculptural installations are bold assemblages that act as a means of inquiry into the languages of form and abstraction.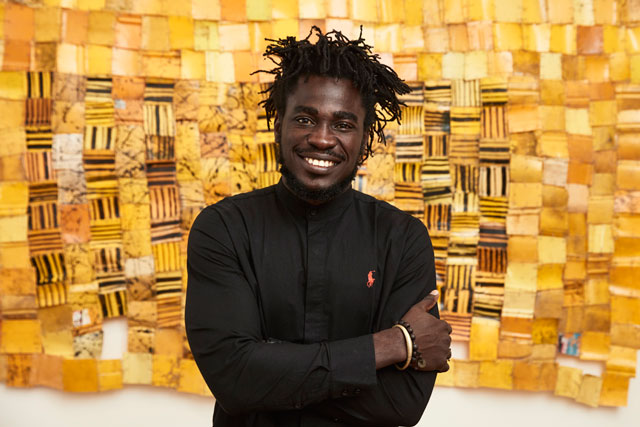 In his most recent series of wall pieces, he utilises flattened Kuffuor gallon, jute sacks, discarded car tires and wood pieces to form abstract formations onto which he inscribes patterns and text. In doing so, the artist elevates the material into a powerful symbol of Ghana's informal economic system of trade and re-use. While some surfaces resemble local textile traditions such as 'Kente', a key reference in west African Modernism throughout the 20th century, others refer to barcodes and feature Chinese characters in reference to the emergence of new power structures in Ghana. In Clottey's drawings (Sex and Politics Series, 2016 – ongoing) the artist explores a formalist approach, depicting disjointed figures and faces, not unlike the visions of nude women under Cubism, a European movement which drew heavily from traditional African tribal sculpture.
We saved the best for last. EL ANATSUI
El Anatsui (born 1944) is a Ghanaian sculptor active for much of his career in Nigeria. He has drawn particular international attention for his iconic "bottle-top installations", distinctive large-scale assemblages of thousands of pieces of aluminium sourced from alcohol recycling stations and sewn together with copper wire, transformed into metallic cloth-like wall sculptures in a way that can "draw connections between consumption, waste, and the environment
El Anatsui has exhibited his work around the world, including at the October Gallery, London (2016), Brooklyn Museum (2013), the Clark Art Institute (2011), Rice University Art Gallery, Houston (2010), Metropolitan Museum of Art, New York (2008–09); National Museum of African Art, Smithsonian Institution, in Washington, D.C. (2008); Fowler Museum at UCLA (2007); Venice Biennale (2007); Hayward Gallery (2005); Liverpool Biennial (2002); the National Museum of African Art (2001); the Centre de Cultura Contemporània de Barcelona (2001); the 8th Osaka Sculpture Triennale (1995); the 5th Gwangju Biennale (2004); and the Venice Biennale (1990).
A retrospective of his work, entitled 'When I Last Wrote to You About Africa', was organized by the Museum for African Art and opened at the Royal Ontario Museum in Toronto, Ontario, Canada, in October 2010. It toured venues in the United States for three years, concluding at the University of Michigan Museum of Art.
A major exhibition of recent works, entitled Gravity & Grace: Monumental Works by El Anatsui, had its New York premiere at the Brooklyn Museum in February 2013. Organized by the Akron Art Museum (exhibition: 2012), the exhibition later travelled to the Des Moines Art Center (2013–14) and the Bass Museum of Art in Miami (2014)
Hope this inspires you to take art to the next level.
Always!
If you have a story you want to share with Kuulpeeps and the world, please do hit us up on Facebook, Twitter, Instagram or on WhatsApp (0500-002686)