The month started with mergers and Team SM was one of the first to announce their camps coming together to pursue one agenda. There was even a beautiful write up about how the Schandorf and Maimuna agenda had "y'ab)mu" with beautiful flyers and all!
So it's pretty shocking that Maimuna and Sir Kingsley have been revealed as the next merger in the SRC Aspirant race.
so much for "we are united!"
Right now we can't tell if the entire Student populace was misled by the SM movement because it was April Fools day. But…if it was a joke, did the practical jokers not get the memo that after an April Fools joke, you have to Ermm maybe, I dunno, say "sorry guys, April Fool!" ?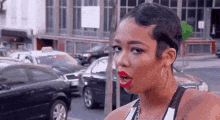 We could be wrong too and maybe Muna is just a swinging pendulum OR even more maybe…she's such a gem that people want to claim her!
Whichever ways, Maimuna Zakaria Adam will be the running mate to Sir Kingsley. The Electoral Commission in a communique released clearly stated the pair as part of the candidates whose nominations have been filed  for the upcoming election.