Have you ever wondered what the difference is between perfume and cologne?
But first of all what is a perfume or cologne?
"Perfume is a mixture of fragrant essential oils or aroma compounds, fixatives and solvents, used to give the human body, animals, food, objects, and living-spaces an agreeable scent." 
You may have thought that the difference between "perfume" and "cologne" is , who the bottle is intended for, (cologne for men and perfume for women) or which counter it's sold at—the difference is a little simpler than that; all fragrances are really  the same, but they are  given their name based on the concentration of oil in alcohol and water.
Pictures tell a thousand words; take a look at this graph, Do you understand? If not look below for the breakdown.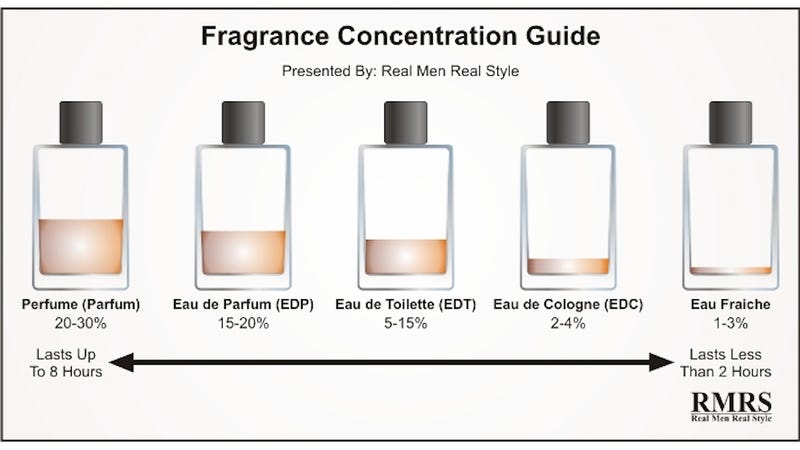 Okay so here is the breakdown .
Eau Fraiche – The most diluted version of fragrance, usually with 1% – 3% perfume oil in alcohol and water. Usually lasts for less than hour. 
Cologne (Eau de Cologne) – Oldest term for perfume, used in North America for masculine scents. Light, fresh and fruity, typically composed of 2% – 4% perfume oils in alcohol and water. Tend to be used in fragrances for younger people. Usually lasts for about 2 hours.
Toilette (Eau de Toilette) – A light spray composition with 5% – 15% pure perfume essence dissolved in alcohol. Usually lasts for about 3 hours.
Perfume (Eau de Parfum) –  used to describe both men's and women's fragrances. The best term used to describe a fragrance. Contains 15% – 20% pure perfume essence and lasts for about 5 to 8 hours.
Perfume –  The most concentrated and expensive of all fragrance options. A little  oilier, perfume, or parfum, is composed of 20% – 30% pure perfume essence. A single application of perfume can last up to 24 hours.
So guys now you know! Buying perfume or cologne should be easier now. We are not sure about you guys but we don't want Eau Fraiche; is that one to a perfume?
If you have a story you want to share with Kuulpeeps and the world, please do hit us up on Facebook, Twitter, Instagram or on WhatsApp (0500-002686)