The university is the ultimate place where the majority of students get sexually liberated and explore their sexuality to realize their full potential in that area.
Yhup most students are "de-virginized" in the university, others experience the action on a whole new level and with different sexual partners. Don't get us wrong, we don't judge and we're cool y'all living your best life.

We know that using protection has been drummed into your ears a countless number of times and we cannot emphasize that enough.
But the thing is, how well do you put on your condom? Does it break every time you use one? Do you feel uncomfortable when you put it on?
Ladies! Have you been trying to put it on for your man?
Yes? Well, if you want the condom to work, here's what you need to know about how to use them correctly!!
First, put on the condom when the penis is erect!
This should be before it makes contact with the skin of your partner as STDs can be transmitted via skin to skin contact.
Check for expiration dates!
Condoms last long, which is why you've probably kept one in your purse for as long as you can remember. However, always check the box or the wrapper for the expiration date. Don't be reluctant to check the ones you recently bought from the drugstores as well.
Open the condoms carefully.
Don't use your teeth or scissors because they can cause a tear that you may not notice.
FORGET all that porn star sexy stuff and tear the wrapper up carefully!!!
The rims must be right-side out.
This means they should be on the outside so they can unroll easily. You can check by unrolling it a little to see if it looks like a small hat.
Also, if you happen to put it on inside out, you may have gotten precum on it so flipping it around is definitely a bad idea.
Note that pre-cum may contain STD infections and rarely sperms which can cause pregnancy.
Leave a little space for the semen.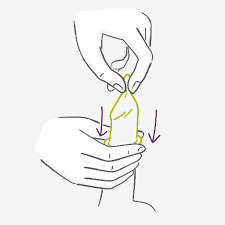 Pinch the tip of the condom when placing it on the head to leave a little space at the top for collecting semen then you unroll the condom all the way to the base.
Now you can do your business!!

After ejaculation, hold the rim of the condom and move away from your partner's body. This is to avoid spills from entering your partner mistakenly.
And PLEASE dispose of the used condoms properly.
Don't flush them down the toilet. Yes, it's wrong!! Instead, wrap it up nicely in a tissue and throw them in the garbage.
Extra don'ts!!
Do not reuse old condoms. Change them every time you have any kind of intercourse or when you switch from one kind of sex to the other (anal to vaginal)
Do not keep them in your pockets, cars or bathrooms for a long time because excessive heat can damage it over time. Store them in a cool dry place!
Lubricants are cool. Specifically, water-based or silicone lubes. Do not use anything that has oil with latex condoms. Oils can cause a tear in a latex condom. So Ermm the baby oil…chill.
Keep a supply of condoms around so that you can easily grab one regardless of where the action happens.
Get used to putting on the condom by practising on anything that looks like a penis… you know, like a banana or a bottle… This makes it easier to put them on correctly when the time comes.
So now you know what to do to effectively avoid catching STDs/STIs , don't you?
You can also decide to abstain altogether. Ultimately, the choice is yours Kuulpeep, so remember to do the right thing.
Jennifer Mensah, Level 300, BSc. Nursing (Legon) contributed to this article.
If you have a story you want to share with Kuulpeeps and the world, please do hit us up on Facebook, Twitter, Instagram or on WhatsApp (0500-002686)