North Korea claims to have conducted its first successful test of a long-range missile that it says can "reach anywhere in the world."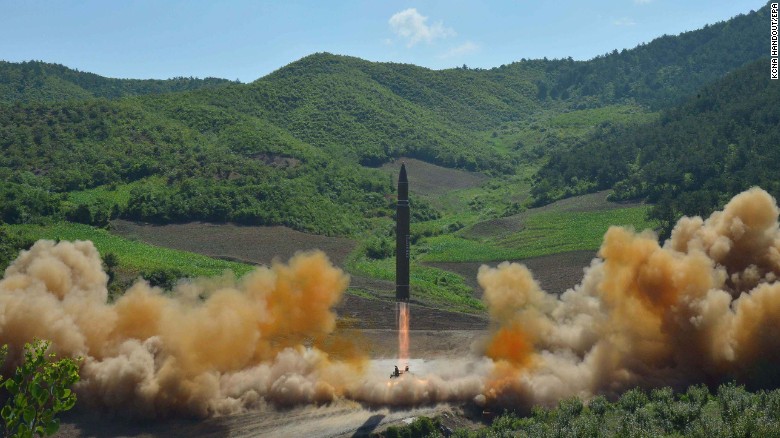 Tuesday morning's missile test, which was conducted on the orders of the country's leader, Kim Jong Un, reached a height of 2,802 kilometers (1,741 miles), according to state broadcaster Korea Central Television (KCTV).
That's the highest altitude ever reached by a North Korean missile, and puts the US on notice that Pyongyang could potentially hit the US mainland.
The regime appears to have timed the launch for maximum political effect, giving the order to fire on the eve of the July 4 holiday, just days after US President Donald Trump spoke with Japanese and Chinese leaders about the North Korea threat and before this week's G20 meeting.
Meanwhile, Euan Graham, director of the International Security Program at Sydney's Lowy Institute, said that one apparently successful test doesn't necessarily mean that North Korea has the global capability it claimed.
"If the North Koreans are claiming they can launch an ICBM (to) anywhere in the world, that needs to be looked at through a technical lens," he said, using the acronym for intercontinental ballistic missile.
"One successful test doesn't get them over the bar; they're claiming more than they can deliver at the moment."
The missile, referred to as Hwasong-14 on state TV, flew into waters east of the Korean Peninsula and may have landed in Japan's Exclusive Economic Zone, which extends 200 nautical miles from its coastline, according to a Japanese defense official.
The US Pacific Command said it tracked the missile for 37 minutes and described it as a "land-based, intermediate range ballistic missile." Japan reported that its flight time was 40 minutes.
This development ignited a reaction from Donald Trump, but before North Korea announced its unprecedented height, the US President responded on Twitter.
"North Korea has just launched another missile. Does this guy have anything better to do with his life?" Trump asked, referring to Kim.
"Hard to believe that South Korea and Japan will put up with this much longer. Perhaps China will put a heavy move on North Korea and end this nonsense once and for all!"
source: CNN