The iPhone 7 will be announced somewhere next month. There have been so many rumors that we feel like we know everything about Apple's next iPhone, including its design and features.  Want to know the latest? Here's everything we're hearing about the iPhone 7.
It will come with lightning ear-pods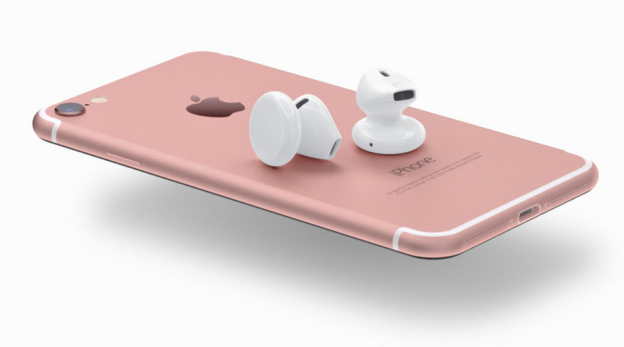 If the next iPhone doesn't have a headphone jack, that means the EarPods Apple includes with the iPhone will need a Lightning connector. It could also be that it might come with a wireless ear-pods.
It Likely won't have a headphone jack
The next iPhone might not have a headphone jack, which could make your old pair of headphones with a 3.5mm connector obsolete without a dongle. That means we could be using the iPhone's Lightning port for listening to music, which is usually used for charging. The other option is to use Bluetooth headphones.
If the rumors are true, Apple and other audio hardware companies would probably sell adapters so you can connect your old 3.5mm headphones to the iPhone's Lightning port.
It will survive water drops
The "new compound materials" combined with a lack of headphone jack could make the next iPhone 7 the most waterproof iPhone yet, according to DigiTimes.
The iPhone 7 will have a bigger battery
Rumors from Chinese site MyDrivers.com claim the next iPhone will have a bigger battery than the iPhone 6s generation battery. A bigger battery in the next iPhone means it's battery power will last longer.
It might have wireless charging
We might be charging the next iPhone wirelessly, according to Fast Company. Wireless charging could be another option for charging the next iPhone now that its main method of charging (with the Lightning port) could be used for listening to music.
The base model will come with 32GB of storage instead of the ridiculously small 16GB
Joanna Stern of The Wall Street Journal claims the base model of Apple's next iPhone will start with a minimum of 32GB of storage instead of the usual 16GB. That means you'll have a lot more space for your photos, videos, and apps.
The regular model's camera will be larger than the one found on the iPhone 6/6s
Most of the rumors and leaked photos clearly show a larger camera on the supposed next iPhone compared to the camera we've seen on most iPhones so far. Tech YouTuber Austin Evans suggests it could be for better low-light performance so that more light can enter the lens and hit the camera's sensor.